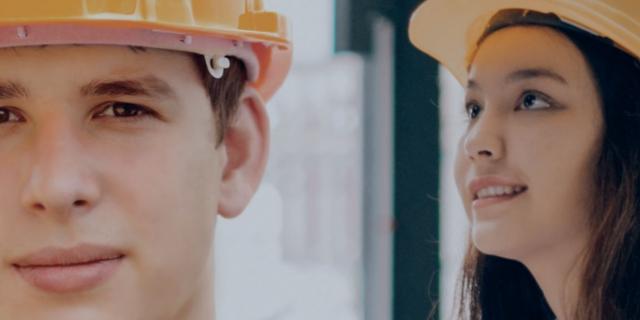 Grande École Construction Manager Bachelor's degree
AN INTERNATIONALLY-RECOGNISED 3-YEAR POST-BAC COURSE
🚩 Campus : Cachan & Dijon
PROGRAMME AMBITIONS 

Become an actor in tomorrow's major projects
The Construction Manager Bachelor's degree issued by ESTP Paris aims to train middle sustainable construction managers who are immediately operational in the three professions sought after in the industry: Works manager, real-estate project manager, and risk and prevention manager.
Benefitting from close proximity with major industrial stakeholders throughout the course, these leading specialisations ensure sustainable professional integration and are a springboard towards pursuing studies at an engineer school.


CAREER OPPORTUNITIES

Works manager, team leader, building business manager, designer/draughtsman-BIM coordinator, construction economist, real estate maintenance project officer, real estate operations officer, technical real-estate portfolio manager, consultation and tender officer, technical controls and construction officer, building inspection and audit officer, inspection and safety officer.
 
SKILLS

At the end of the course, you will know how to 

•    Supervise teams involving diverse profiles and professions
•    Manage and steer a construction project
•    Conduct a technical study to propose optimal solutions


THE STRENGTHS OF THE BACHELOR'S DEGREE

1. Educational excellence, dual qualifications

•    Scientific and technical qualifications as relating to construction
•    Managerial skills
 
2. International mobility

•    English gradually incorporated into the educational approach
•    A 6-week project abroad
 
3. Three majors to choose from: Building/Public Works management, Real Estate Projects, Risk and Prevention

•    Sought after professions in the Construction sector
 
4. Innovative pedagogy

•    Project-based pedagogy
•    Skill-based approach  
•    Digital tools (videos, e-learning, Web TV, etc.)
•    Soft skills (workshops, real-life situations, etc.)
 
5. A secure pathway

•    Immediate professional integration or a springboard to continuing studies at an engineer school

 
✅ This course has been awarded the degree of 'Licence' and leads to a Degree recognized by the French government.

👉 To join us, see the conditions for admission by clicking here ✔



For more information on the Bachelor's degree, please contact :
🟧 CACHAN : 

Simon WINTZER 
Email : admissions@estp-paris.eu
Tel : 01.49.08.23.89
Anna KOCZOROWSKI 
Email : akoczorowski@estp-paris.eu
Tel : 01.49.08.53.26
 
🟧 DIJON :

Léa DUCHESNE 
Email : lduchesne@estp-paris.eu
Tel : 03.73.62.02.59