A Summer School of Applied Sciences
Artificial Intelligence & Engineering applied to Smart Cities
Due to the unforeseeable circumstances caused by the worldwide covid-19 pandemic and the imposed movement restrictions, EPF-ESTP Paris made this uneasy decision to suspend the 2020 Summer School. 
Our priority is to ensure our students' safety and well-being, to keep high quality standards in our taught curriculum, organized visits and to give you a great French local experience !  So we are getting ready to welcome you to our next editions in winter and/or summer in 2021… 
Stay tuned for next subjects and dates !
In the meantime, stay safe and take care.
With our warm wishes,
The EPF-ESTP Summer School Team
● Academic program
A particular attention is dedicated to the following subjects:
Smart cities, Smart grid, Smart building
AI for climate change mitigation
Big data, artificial intelligence and machine learning for sustainable development
Citizen science and public engagement in smart cities
Digital revolution and AI challenges
Students have the opportunity to work together with their team members on a real project supported by local authorities with the supervision of professional/academic tutors. In addition, they can visit research laboratories and meet with researchers and innovators during this summer program. 

Upon success, by the end of each module, students may obtain a certificate and 3 Credits (ECTS).
 
● Cultural program
Besides the academic lectures, complementary field trips and projects site visit, a cultural program, will allow students to discover 2 of the most beautiful areas of France: Paris & the Champagne region.
They will discover the splendid cultural heritage of France's capital city, Paris and the Parisian world reknown for its cultural life including world famous theatres, museums, architectures and excursions on Seine River. They will visit the wonderful medieval city of Troyes famous for its architecture and stained glasses and also the Champagne vineyards in the Champagne-Ardennes region. 
All students will discover the French culture in addition to cultural visits, which will contribute to a perfect understanding of the local social and professional environment.
Note: Program content may be subject to change or cancellation based upon low enrollment
 
● Practical information
Our campuses :
ESTP Paris campus is located in Cachan (minutes away from the center of Paris by subway) on a seven hectare green land where teaching and research activities are organized. Students life is energizing since students may benefit from sports facilities, a residence, and a restaurant on the premises.
Troyes is a medieval city, just an hour and a half from Paris by train. Troyes is the historic Capital of Champagne, the nearest vineyard is only about ten kilometres.
● Application & fees
The program fee of 750 € per module covers:
Tuition and documentation
Welcome and farewell events
Access to EPF and ESTP Paris facilities
Free internet access
Official programme certificate
Cultural and social events
Accomodation may be aranged per request (for 350 € per module)
Living expenses, individual insurances and visa fees are not included.


Each module consists of:
20 hours of lectures and supervised teamwork
1 real project
1 session of French culture (theatre, French cuisine workshop, etc.)
1 session of meeting with researchers and visiting research laboratories
2 cultural visits
1 lunch and 1 cocktail (offered by school)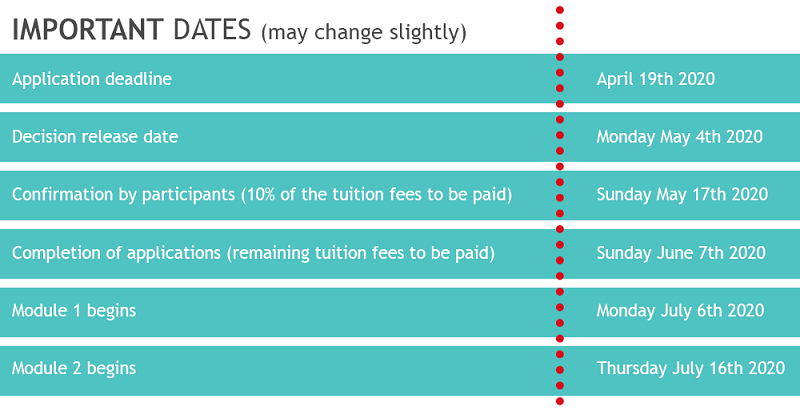 ● Contact
For any inquiries please contact:
● Live video | Summer School 2019
You want to learn more about the Summer School Program, check the replay of the Live video chat below.