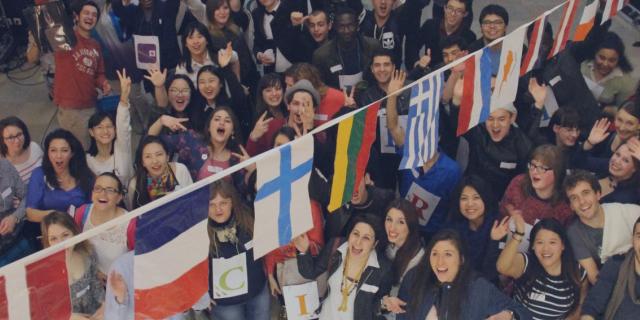 FLE (French as a second language)
French Language for Engineers
During the summer, ESTP Paris offers an intensive language programme for international students from other schools and universities (or in the process of applying), as well as for professionals keen to enhance their French language skills.

During the academic year, ESTP Paris students continue to take French as a second language classes.

Our French as a second language classes were awarded the European Language Label in 2006 by the European Commission, and the French as a second language quality label in 2009 by the French government (Ministries of Culture, Higher Education, and Foreign Affairs)
INTENSIVE SUMMER PROGRAM
When : July 6th to September 4th 2020
2 weeks minimum and up to 9 weeks
Online application starting from April 2020 on : http://papei.estp.fr/insc/epf_accueil.php
Application deadline : June 15th 2020
● The Programme
Classes cover the following areas of study:
General French
French with University Objectives (Methodology)
French with Specific Objectives (Scientific Language, Mathematicss, Mechanics, Sustainable Development, Economics)
Phonetics, role-play and debates
Individual support (Tutoring) and self-directed study (Multimedia-CIT learning)
Our teaching team includes French as a second language specialists (university degree holders) and qualified teachers in scientific disciplines who are all experienced in working with engineering students.
Course objectives:
General French language learning (grammar, everyday vocabulary, syntax, spoken and written French, phonetics).
Introduction to French culture (supplemented by classes in history, literature, geography, oenology, and cultural trips to museums and districts of Paris)
Acquisition of scientific and technical engineering vocabulary(notably in mathematics and physical sciences, mechanics, optics, acoustics, electricity, architecture, etc.)
Introduction to Frenchmethodology(the scientific approach, types and formats of exercises and tests, and the model of work in French higher education institutions).
Students can access online tools tailored to their requirements. 
In order to evaluate students' progress, French proficiency examinations (TCF) are used throughout the programme. 
ECTS CREDITS: 1 per week
All activities are mandatory in order to obtain all the ECTS credits
● Practical information
ACCOMODATION 
Accommodation is available in student dormitories or with a host family.
MEALS  
Students must make their own meal arrangements.
Options include: student canteens, shops, and restaurants in Paris and Cachan.
● Cultural activities
A variety of cultural activities: trips (culture, history, heritage, science, etc.), films, wine tasting, etc.
● Fees and Conditions
Registration fee is not refundable

Any cancellation by the student must be mentioned to the administration at least two weeks before the first day of the class.
After this period, tuition fees will be fully retained. The registration fees will be retained in any cases. In the event of course interruption, early departure or absence, no refund will be made.
The French Language Department reserves the right to cancel courses which do not obtain a sufficient number of registrations. In this case, tuition fees will be refunded and registration fee will be retained.


 
For more information, please contact: Magali Boutiot, Naoil Brendrimia