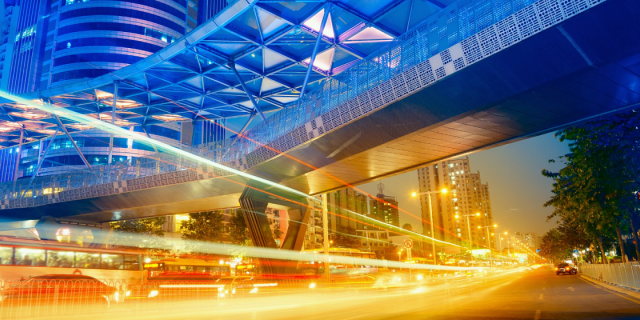 Sustainable Road Infrastructures and Urban Development Chair (IRAUD)
THE IRAUD TEACHING CHAIR WAS CREATED IN 2021 BY ROUTES DE FRANCE AND THE ESTP
The field of road infrastructures is the historic heart of teaching at ESTP, which trains many engineers for the road sector.
 PURPOSE AND APPROACH:
To re-establish the field of road infrastructures as modern and innovative, with a key role to play in transport and mobility, energy, public areas and current and future developments;
 
To promote the sector and ensure the wide-reach of French know-how and expertise among youths as the future of the profession;
 
To integrate developments relating to roadway usage diversification (active mobility, carbon-free mobility, shared mobility, connected and autonomous vehicles, energy-plus roads), particularly in urban environments.
 
 OBJECTIVES:
To train in and provide information on road infrastructures and their developments, within the Infrastructures, Land Development and Environment Department, by:
Improving the project pedagogy applied to Road infrastructures and complement teachings with new knowledge;
 
Actively participating in the Research pathway through PIERs on the unifying and cross-disciplinary subjects addressed by Routes de France;
 

As from the first year, raising students' awareness and introducing them to an innovative approach by creating a Digital ROAD INNOVATION pathway using an innovative pedagogical approach: this pathway relies on the expertise of various stakeholders in the sector through concrete realisation examples, a presentation of sector issues, and notably the mobility infrastructure stakeholders' commitment:

https://www.idrrim.com/evenements-idrrim/pacte-engagement/;
 

Redefining a 200-hour option, offered during the 3rd year and focusing on mobility road infrastructures with a guiding project, a project and the integration of investigation studies, various transport methods and urban developments, consideration of climate, ecological and digital transition, and project management (cross-disciplinary approach and international dimension).

 

PARTNERS
ROUTES DE FRANCE AND ITS 11 MEMBER COMPANIES 
 
 FOR MORE INFORMATION, PLEASE CONTACT:
Anne DONY | Head of the IRAUD chair
Email: adony@estp-paris.eu
 
Brice DELAPORTE | Deputy Technical Director
Email: brice.delaporte@routesdefrance.com