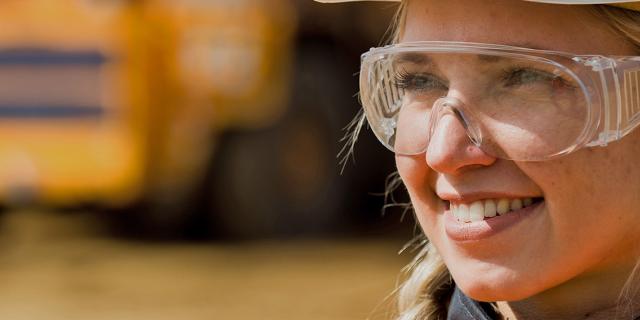 Engineering course content | Student status
ESTP ENGINEERING DEGREE | GRANDE ECOLE PROGRAMME
Combining the four specialised engineering diplomas into a single ESTP Grande Ecole Programme (PGE) diploma is an important step in the deployment of the school's strategic project. This programme will be offered from the start of the 2023 academic year on all ESTP campuses (Cachan, Dijon, Orléans and Troyes).

An education rooted in the challenges of the city of tomorrow
ESTP offers a high-level engineering degree recognised by companies as a benchmark in the training of construction and sustainable development managers. 

Focused on the challenges of tomorrow's low-carbon construction, infrastructure and urban development, the programme is built around a core curriculum to consolidate scientific knowledge and a personalised educational pathway for each engineering student from the 2nd year onwards. 

This diploma ensures immediate professional integration in France and abroad in professions that respond to the complexity of tomorrow's major design, construction and urban transformation projects.
Our engineering cycle under student status leads to the same diploma, the ESTP Engineering Diploma (Master's equivalent).
THE PGE ENGINEERING PATH 2023-2024
1ST YEAR 
A CORE CURRICULUM OVER 3 SEMESTERS AND A SKILLS-BASED APPROACH
Five areas of knowledge and skills development over semesters 5, 6 and 7, representing approximately 400 hours of teaching per semester.
> MATHEMATICAL TOOLS AND MODELLING TOOLS
Modelling and solving tools, digital signal processing, BIM, etc.
> MECHANICS AND MATERIALS 
Materials science, continuum mechanics, soil mechanics, etc.
> CONSTRUCTION SCIENCE AND TECHNIQUES 
Building energy, electricity and energy, resistance of materials, urban topometry, etc.
> ENGINEERING AND THE CHALLENGES OF SUSTAINABLE CONSTRUCTION 
Climate and environmental issues, urban sociology, business economics, innovation and research, project management, etc.
> MANAGERIAL SKILLS AND CAREER PLANS 
Softskills, modern languages

Minimum 6-week work placement
2ND YEAR
ESTP offers the opportunity to build a personalised career path year after year, thanks to a wide choice of thematic courses in the second year:
> Sustainable Construction (all campuses)
> Urban environment & Mobility (Cachan, Orléans, Dijon)
> Environmental Civil Engineering (Cachan, Troyes)
> Energy Efficiency (Cachan, Dijon)
> Digital Technologies for Construction (Cachan, Orléans, Troyes)
 
Minimum 12-week technical internship
3RD YEAR
Transition to professional life and choice of an option and business expertise in fields that are innovative and attractive to companies:
OPTIONS TO CHOOSE 👇
> Low-carbon design and construction (Cachan, Dijon)
> Construction 4.0 (Troyes)
> Real estate development and use (Cachan, Troyes) 
> Ecological civil engineering (Dijon)
> Nuclear civil engineering (Cachan)
> Road Infrastructure and Sustainable Development (Cachan) 
> Infrastructures and Underground Works (Cachan)
> Digital Twins and AI (Orléans)
> Modelling of complex structures (Cachan) 
> Energy Production, Transport and Storage, Smart Grid (Cachan)
> Renovation and rehabilitation of built heritage (Troyes)
> GIS, topography and digital technology (Cachan, Troyes)
> Sustainable, low-carbon urban planning (Dijon)
CHOICE OF VOCATIONAL EXPERTISE 👇
> Design and engineering (all campuses)
> Entrepreneurship (business creation) (Cachan, Dijon, Troyes)
> Operational management (all campuses)
> International Project Management (Cachan)
> Property Management (surveyors) (Cachan, Troyes)
> Risk Management (Cachan)
> Research & Development (all campuses)
End-of-study work placement: engineering assignment of at least 24 weeks.
 
Possible variants
> Double degree at Arts et Métiers ParisTech, IFP School, IAE, Sciences Po, EDHEC, ESCP Europe.
> Research Master 2 at École des Ponts et Chaussées, Arts et Métiers ParisTech, ENS Paris Saclay, etc.
> 3rd year at Arts et Métiers ParisTech, INSTN, EIVP, etc.
> Double degree or 3rd year in one of the 88 foreign partner universities
Our accreditations & recognitions
Our student engineering course leads to the ESTP engineering diploma (Master's equivalent) accredited by the CTI (Commission des Titres d'Ingénieurs), recognised by the French government (Ministry of Higher Education and Research - MESR) and registered in the RNCP (Registre National des Certifications Professionnelles).

🎬 Student life & our campuses
🟠 The ESTP engineering course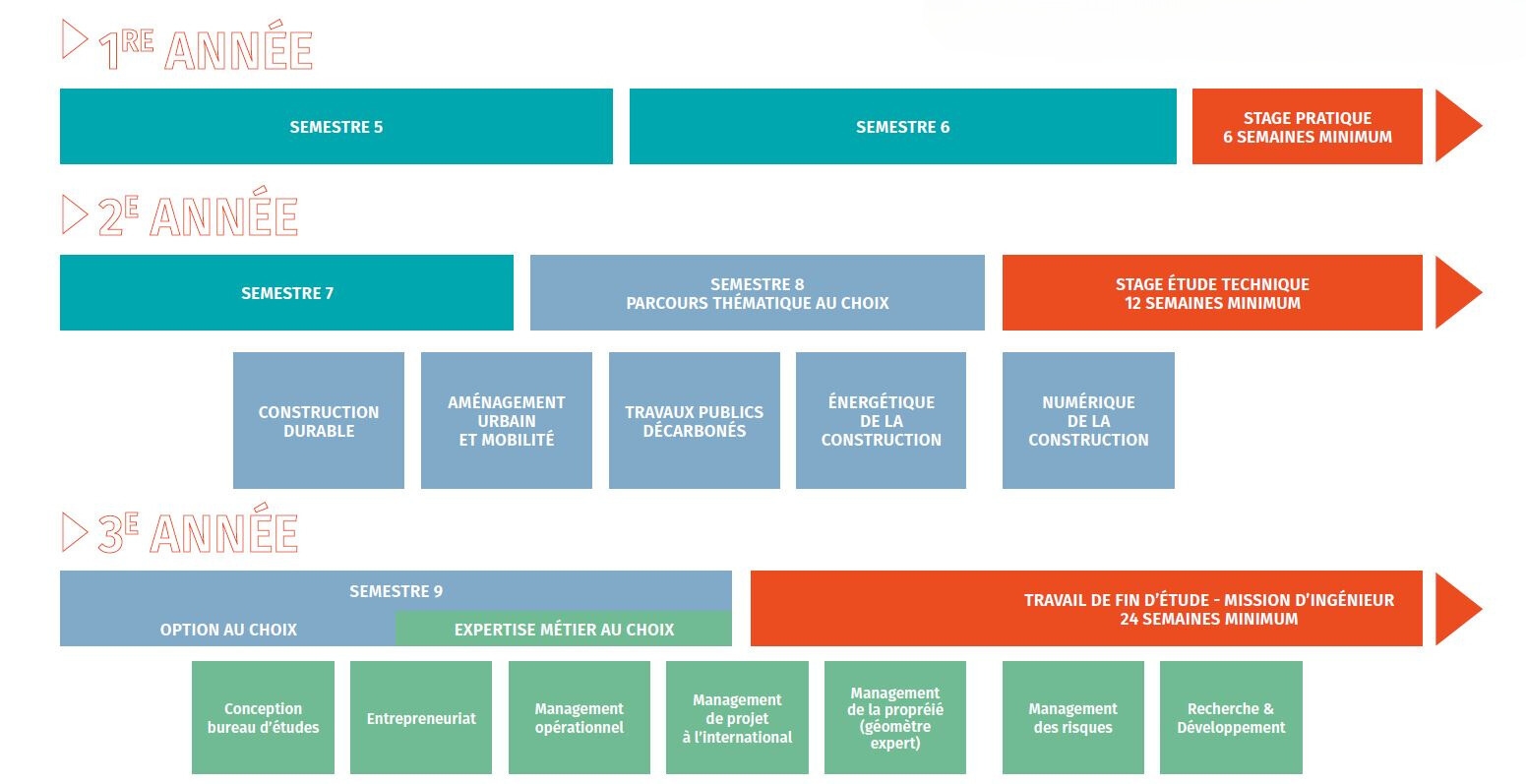 🟡 Back to ESTP 2022
🔵 Our campuses
Que faire après un diplôme d'ingénieur.e ?
Engineering degree course - 100% English-speaking (Civil Engineering)
Engineering degree course - 100% English-speaking (Civil Engineering)
English taught program in civil engineering
As a French private university, leader in the construction sector in France, ESTP Paris is offering a full curriculum entirely taught in English and dedicated to international students seeking a Master's Degree in Civil Engineering.

This program deals with all fundamental subjects of the built environment including a specialization and a 6-month internship. Through technical courses and soft skills development, ESTP Paris strives to train global civil engineers, ready to work all over the world.

A "study-abroad student" may attend a semester only or a full academic year as an exchange student without graduation. Students attending this program will be able to complete 30 ECTS (European credits) per semester and 60 ECTS per year.

Additionally, French Language classes are organized for non-French speaking students throughout the program.
Courses will be led by teachers or professors from ESTP Paris and our best visiting professors from our partner universities abroad.
 
WHO CAN APPLY ?
> International students with a scientific background holding an equivalent of a Bachelor's degree
> International students from partner institutions
> French students from ESTP Paris


WHEN TO APPLY ?
> Applications are due by June 15th for degree seeking students and Fall semester applicants and October 15th for Spring
semester applicants : internationaladmission@estp-paris.eu

WHERE ?
> On our campus in Cachan, near Paris.
 
How to apply for this course