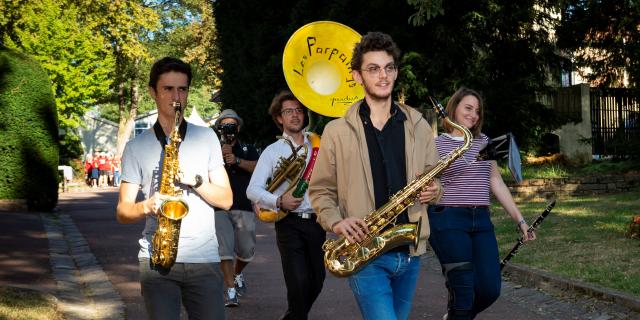 Cultural societies
Les assos culturelles
Afro ESTP 
Afro ESTP represents African culture in all its guises and is also a professional network. The society's four industry liaison representatives work hard to secure student internships in Africa with major building and public works companies.
Chaplaincy 
The ESTP-ESITC chaplaincy offers a varied programme of activities throughout the year: masses, meals, weekend events, parties, etc.
Classik ESTP 
Classik is the classical music society par excellence, which offers opportunities for conducting, arranging, composing and performing in tandem with its orchestra. The orchestra has a programme of events and performs several times a year at functions at the school and beyond. 
Dream's 
DREAM's is the ESTP musical theatre society. This outstanding society puts on a musical every year, featuring its own script, sets, lyrics, costumes and choreography. With its cast of singers, dancers, actors, directors, stage managers, set and costume designers, it stages regular productions, including shows in major Paris venues. The society brings together a multitude of talents and is more like a family than a troupe!
HiStudent 
HiStudent is responsible for welcoming international students and helping them to settle into the school and into French society more generally. The society allocates a peer mentor to each international student – a French student who will help them with all the administrative procedures and answer any questions they may have.
La Circa ESTP 
La Circa ESTP is the circus society which offers you the opportunity to take part in weekly introductory or development workshops in all the circus skills: juggling, unicycle, balance board, trampolining and acrobatics, as well as fire skills and gymnastics!
Larssen 
LARSSEN is a cultural society which organises excursions and cultural trips in France and Europe: theatre, opera, ballet, film, museums, concerts, exhibitions, TV shows, and trips to European capitals. There is no shortage of ideas or opportunities!
There is also an analogue photography workshop. The society allows you to nurture your love of culture in an affordable way as an essential part of a good engineer's training!
Les Fous de la Rampe 
At ESTP, the inimitable Les Fous de la Rampe theatre and improvisation society stages shows in magnificent Parisian theatres, creates humorous videos to raise a smile on campus, performs stand-up sets, and runs improv workshops. It offers an infectious blend of zaniness and inspired fun!
Les Parpaings Perdus 
You may have come across them over the last 10 years in their typically exuberant performances outside the Opéra Garnier, in the métro, in Montmartre or on the quais de Jussieu: les PARPAINGS PERDUS are the one and only ESTP Paris brass band!
They play at ESTP events, matches at the Stade Français, in the streets of Amsterdam, Prague, Lyon, and on the île de Ré, or at parties 20 thousand leagues underground – the list of memorable events is endless!
LGBTP 
A friendly atmosphere, talks, parties, cultural events, discussions, safety, and health testing are all watchwords at the most colourful society at ESTP. The LGBTP team offers a wide programme of events exploring topical social issues, inclusion, tolerance, and open-mindedness.
MAROC ESTP 
MAROC ESTP initiatives focus on two different strands: a French strand to introduce the school's student community to Moroccan culture through afternoon tea, barbecues and cultural events on campus, and a Moroccan strand to foster links between ESTP students and professionals in Morocco via themed dinners, roundtable events and lectures.
Mécène 
Mécène ESTP promotes art in grandes écoles in two ways. Firstly it raises awareness of art among the student body and encourages talented young artists. Secondly, Mécène ESTP offers opportunities every year for its artists (at ESTP and at its partner school of architecture ENSAPLV) to exchange ideas and get creative around shared themes and to produce work for an exhibition.
Mirage – in Troyes
The society organises meetings with professionals, exhibitions, lectures, and cultural events to allow ESTP Troyes students to expand their professional networks and acquire experience in organising projects or events while getting the most out of student life.
Rapiculture 
Rapiculture brings rap culture to the student community in order to demonstrate its linguistic richness and promote its values of tolerance, solidarity and aspiration. Workshops in writing, improvisation and instrumental composition are offered, as well as afterworks with a freestyle session vibe. The aim is to put on a concert in Paris at the end of the academic year.
Rock'n'Dance 
Every Wednesday, Rock'n'Dance offers an evening session with a one-hour dance class to teach you to dance in the "four beat" rock style for every occasion. The classes are run by professional dancers. No previous knowledge is required and the classes are tailored for beginners and experienced dancers alike. Come along and learn to shine at parties!
Sound ESTP 
Sound brings together students who share a passion for music. The society was inspired by the desire to share this alternative culture in all its different forms, including an introduction to mixing and computer-aided music, but first and foremost for ESTP Paris events. BLOC and GMP parties, BDI-PUB and afterwork sessions – our DJs have got them all covered.
TEDx ESTP 
It all began with an idea to bring together a group of remarkable people, to see if they could become even better. A theme, prestigious speakers, speeches, lecture evenings. It's all about changing the way you view the world with "ideas worth spreading" – that's the TEDx ESTP mission. 
Tournage 
This is a society for lovers of visual media. It provides media coverage for all ESTP events including WEB, the Gala, degree ceremonies, etc. It also develops artistic content including short films, satirical shows, and sketches. Tournage runs photography and video workshops with professional equipment for beginners, enthusiasts or experienced students. Come and express yourself visually!
Zik ESTP 
The unique ESTP musical society. Come and meet your future bandmates!