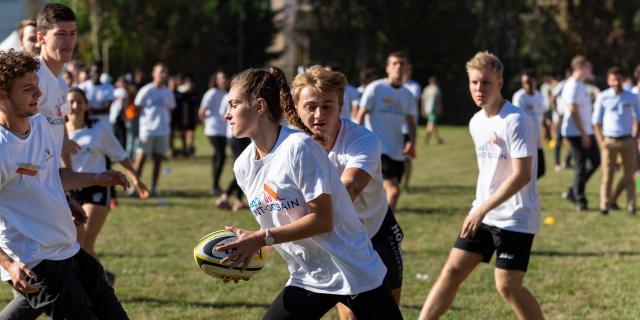 Sports societies
Bureau des Sports
The Bureau des Sports (BDS) Sports Office organises all ESTP sports and inter-varsity sporting events. The BDS also organises the "ESTPiades", a sort of ESTP Olympiad. The programme features an afternoon of barbecues and multisports tournaments (volleyball, football, rugby, badminton, table tennis, pétanque) with prizes for the winners.
 
The society's aims include:
- enabling all ESTP students to take part in a sport or sports of their choice
- working to improve sports facilities on campus.
Bureau des Sports à Troyes
The BDS Troyes Sports Office is responsible for helping students to get involved in sporting activities and events in the region.
In partnership with the Troyes Technology University sports society, it provides a wide selection of sporting activities throughout the year. It offers students the opportunity to take part in sporting activities in the Grand Est region, the town of Troyes, and ESTP Paris (including sailing challenges, ski week, the Saint Gobain football tournament and the student olympics
Contact: bdsestp_troyes@outlook.com  
Aviron ESTP 
Aviron ESTP has been the ESTP rowing club for over 45 years. This quintessential university sport practised in the most prestigious universities worldwide, including French grandes écoles, combines power, technique, strength and smoothness. Why not join them!
Castors de Paris
Castors de Paris is the ESTP students' American football society. It is open to players of all shapes, sizes and ability levels. If you fancy being part of the team, then come and join them!
Défi voile
Défi Voile is the ESTP sailing society for students who enjoy taking to the water for competitions or sailing for pleasure. It offers a variety of major events organised by the school, including the ESTP All Saints Cruise where over 150 ESTP students in fifteen or so sailing boats spend a week exploring the world and basking in the southern sun on the Mediterranean.
ESTP Paris Jumping 
Whether you are a seasoned or occasional rider or have never been in the saddle before, join the ESTP Jumping adventure. The society aims to organise a national three-day show jumping event attracting top French riders. If you would you like to get involved in organising an event like this, join the society and meet the construction industry professionals supporting the project.
ESTP Jumping offers weekly lessons open to all at the Military Academy and Grange Martin stables. A half-day course is held once a month at the Vernouillet equestrian centre. You can also compete in various university events in the region and in ESSEC, École Polytechnique (l'X) and HEC show jumping competitions.
Fitfess ESTP 
FitFess ESTP is a society offering a fitness class three times a week open to all students.
The classes start with a 30-minute cardio workout followed by muscle strengthening (abs, glutes, thighs, arms, etc.) to music in a friendly atmosphere! The society also offers Zumba and yoga classes.
Pompoms
The legendary ESTP cheerleaders are always bursting with verve and energy and support the school's sporting events.
Schedule:
Weekly rehearsals
Half-time routines
Coaching to work on flexibility without straining
Major events: the Challenge Centrale Lyon cheerleading event with its high-octane vibe
Other tournaments (TOSS, Challenge des grandes écoles…), RFT – in Cachan.

Run For Them
Run For Them is the Paris running society. There are weekly training sessions and races in Paris and the surrounding area. All ability levels welcome!
RFT ESTP is about more than just running. It also belongs to a network with hubs at 6 French higher education institutions all working together to support the charity Fondation du Souffle.
Roselend
Roselend is a unique and original sporting event – the unmissable student ski touring race organised by the ESTP Roselend society for over 25 years! This competition brings together students from ESTP and other schools and professionals in an outstanding setting. For three days, you can get off the beaten track and go ski touring, discover the protected mountain environment, and enjoy the powder snow. 
Skiclub 
SKICLUB offers a one-week skiing trip to a resort in the Alps for up to 350 students and also organises weekend trips, events on campus, and meet-ups with big names in the building and public works industry. A must for ski and winter sports enthusiasts! 
Sky 
Sky ESTP promotes an aeronautical culture within ESTP, organises introduction to flying events (planes, gliders), aerial sports (parachuting), and raises awareness through events and publications.
Trek ESTP 
Whether you are an experienced walker or a newcomer to the pleasures of walking, Trek invites you to get your walking boots on. The society offers activities encouraging the sporty and the not so sporty alike to get out of the Paris rut and make some memories. For the hardier members, there are orienteering-style challenges to test you and push your boundaries

Follow Trek ESTP on Facebook