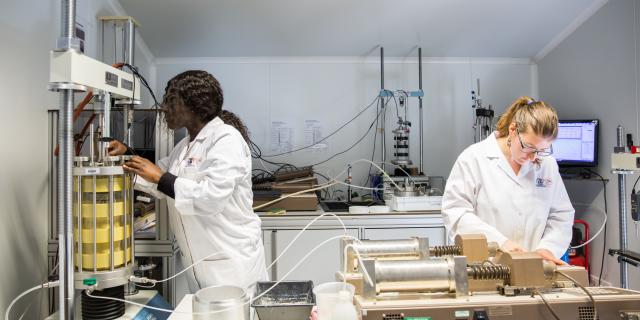 Research Institute
TAKE UP POSITION AT THE HEART OF DIGITAL, ENVIRONMENTAL AND ENERGY DEVELOPMENTS WITH A VIEW TO BUILDING SOBER AND CARBON-FREE CITIES, BUILDINGS AND INFRASTRUCTURES
The Research Institute is a centre of applied research and skills in the Civil Engineering sector. The Institute's research actions all revolve around the topic of Constructability. Its position as such meets the major challenge faced by the construction sector, i.e., to mobilize new strategies in order to optimize the value of constructed objects and anticipate the effects of technological, ecological and societal changes.
Research and innovation are pillars of the ESTP's reach. ESTP's constructability research institute consolidates and improves its scientific expertise in 4 main fields of excellence:
⚫ Innovative construction systems
⚫  Construction site of the future (Smart construction)
⚫  Smart and sustainable cities
⚫  Smart buildings
The Research Institute is currently recruiting several teacher-researchers to strengthen its research teams, and is acquiring new research spaces as part of the ESTP's new multi-campus organization.Aim: To assert itself as a key research and innovation player in the field of carbon-free construction.
 
THE RESEARCH TEAMS ARE SPECIALIZED IN THE ESTP AND RESEARCH INSTITUTE'S FIELDS OF EXCELLENCE :
> The sobriety of construction materials, from formulation to their production process, to their implementation, and at the end of the chain their deconstruction and recycling
> The study of built systems and sustainable works, in their environment, including interaction with the soil for example or climate risks in resilience studies
> The development of digital and geographical systems such as digital twins of a building, construction site or territory in order to fully understand them and subsequently manage the life cycle of the structure in question
> Construction project management, organization, project risks, logistics, throughout the value chain
> Mastery of electrical and power systems, such as smart grids or low-carbon buildings
> The use of new technologies for "smart" construction sites, buildings, cities and territories