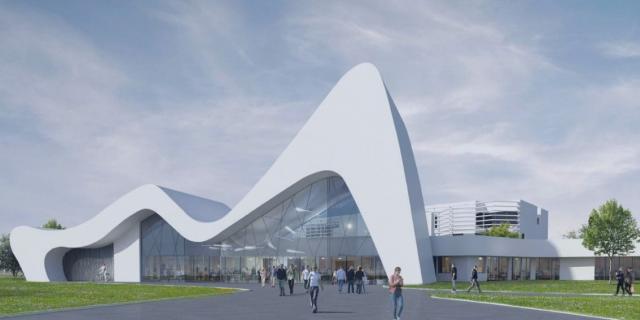 Troyes
A modern, vibrant campus
The ESTP Troyes Campus offers the same Engineering programme for students and the same qualification as the Cachan campus.
This new and expanding campus, launched in September 2017, will host 300 students in 2020 in its new premises built with joint funding from the Troyes Champagne Métropole, the Aube Département, and the Grand EST region.

Location
Located just 90 minutes from Paris by train, Troyes is a town on a human scale which offers an excellent quality of life while remaining affordable. It is home to 10,600 students and boasts second place in the league table of "most attractive student towns" published in the magazine L'Etudiant.
The historic town centre and the Forêt d'Orient Regional Park make it a sociable and pleasant place to live. 
Cutting-edge teaching and study facilities
With over 4,500m2 of new buildings, our campus offers 
4 laboratories 
A dedicated BIM hall 
An IT centre
A digital laboratory accessible to students
A wealth of sports facilities and activities
There are so many options to choose from! Students at the ESTP Troyes campus can become part of the vibrant sports scene at the Troyes university cluster, whose facilities include: 
A climbing wall
A gym
An athletics stadium
An Olympic-sized pool
Tennis courts
Sailing, kite surfing and cycling (Forêt d'Orient Regional Park, close to campus)
The ESTP Student Sports Office (Bureau des Sports) on the Troyes campus, offers a wide range of sporting activities: Read more
Student accommodation and catering
CROUS Reims Champagne-Ardenne halls of residence offer various types of accommodation to students irrespective of whether they are scholarship holders.
Student cards provide access to university canteens run by CROUS both on campus and in Troyes.
The Maison des Étudiants (MDE) student centre facilitates all your administrative requirements: the Service de la Vie Etudiante de Troyes Champagne Métropole, a satellite of CROUS de Reims Champagne-Ardenne, and the Fédération des Etudiants Troyens/Campus 3, have created a one-stop shop in the Maison des étudiants in the heart of the Comtes de Champagne campus. This is the go-to place for student life in Troyes: Read more
      
Credit Sylvain Bordier                                                                              Credit Sylvain Bordier
ACCESS