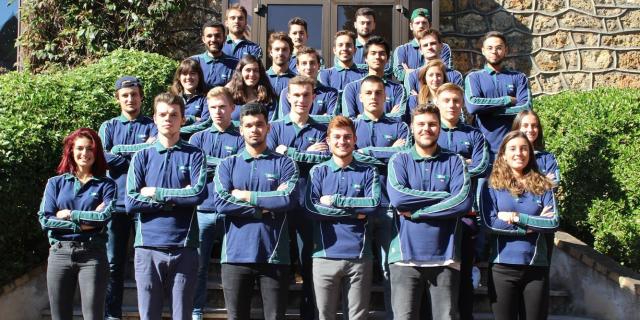 The Student Union
The BLOC
THE BLOC is the name given to the Student Union (Bureau des Elèves) for ESTP engineering students. Regulated by the French law of 1901 relating to associations, the BLOC can trace its history back to World War II when ESTP students united as a block against the occupying forces. It is manned by a team of approximately 25 students and is familiar to both students (90% of new students use it) and corporate partners.
Its role
As a focal point for 50 humanitarian, cultural, artistic, sporting and career-focused societies, the BLOC's main aim is to:
Coordinate societies
Answer student enquiries
Liaise between students, school management and industry
Organise BLOC Days and ESTP Forums - invaluable opportunities for students and industry to come together
Organise the annual Gala event and the school's various functions
Forge a permanent link between year groups and alumnus societies which have 45,000 graduate members, 30,000 of whom are still active professionally
Represent ESTP: in the press, at conferences

The B-cube in Troyes 
The B-cube is the student union for the ESTP campus at Troyes. It works closely with the BLOC, to organise social events, professional gatherings, and a variety of opportunities for students at the Troyes campus as well as for and in partnership with other schools and universities belonging to the Troyes cluster (UTT, EPF, YSCHOOLS, URCA, etc.).

Contact: bdeestptroyes@hotmail.com
BACE
The BACE (Bureau des apprentis de la construction et des Energies) is the society which represents construction and engineering apprentices on the ESTP  Sustainable Construction Energy Engineer course (GECD). 
ACTE
As the society for ESTP students studying to be Site Managers, ACTE's main role is to represent all the students on the site management course.

Contact: acte@acte-estp.fr