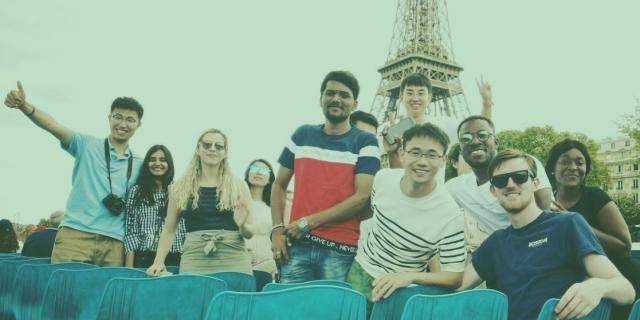 Summer School / Sustainable Cities of the future
SUSTAINABLE CITIES OF THE FUTURE
THE TECHNOLOGIES OF NATURE
BIO- CITY | BIO-ARCHITECTURE | BIO-ENERGY | CIRCULAR BIO-SOCIETY
🌍 Our ESTP Summer school is back in July 2023, along with our partner school EPF
▶ Applications (until May 31st 2023)
> Reserved to summer school students | 2023 Summer Program : Sustainable cities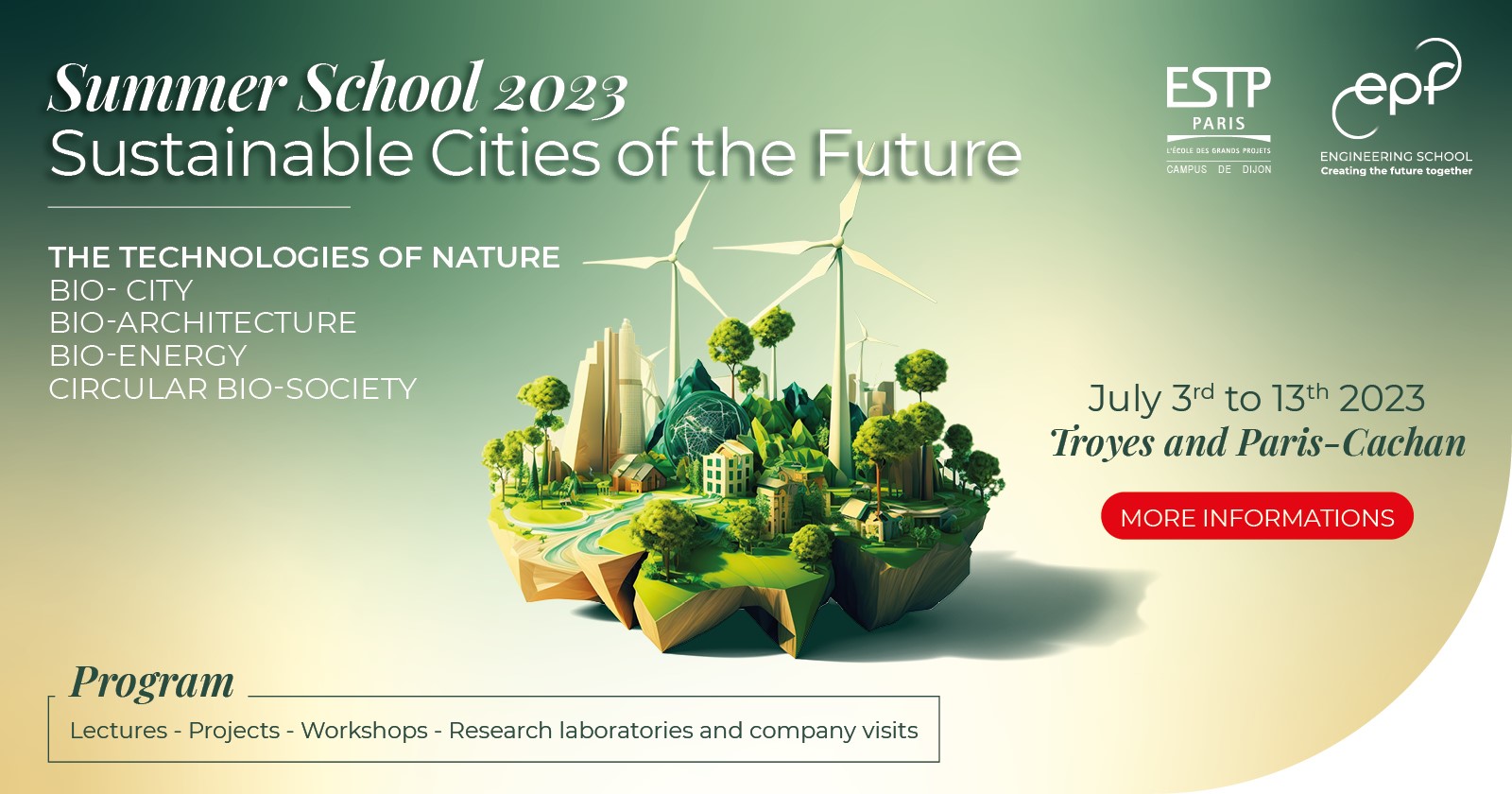 ● Academic Program
🚩 PROGRAM TAUGHT IN ENGLISH – B2 level recommended

Building healthier, environmentally respectful cities that foster a flourishing economy and society is still one of the biggest challenges of our century.
Creating sustainable cities requires holistic, system-based approaches to the multiple environmental, societal, and economic hazards. It is necessary to consider the co-benefits and unintended consequences and have an in-depth understanding of the complex societal, technological and environmental barriers and the enablers for effective change.
While modern technologies give many answers, nature shows us how to integrate human activity into the natural cycle and to harmonize the creations of people and nature.
Bio-inspired solutions/technologies are increasingly explored and applied in practice due to their higher contribution to sustainability.
Innovation, engineering, architecture, and ecology are brought together in an exciting two-week summer program. Come and explore how sustainable thinking can be inspired by the laws of nature and to explore how technology can contribute to creating sustainable cities for the future.
Built around the topics of Bioenergy, Bio-Architecture, Bio-Technology and Circular economy and Bio-Society, the 2023 summer school is a journey from theory to practice experienced on campus, in companies and research laboratories, in nature, and in cities.
The academic program includes, but is not limited to, the following themes and topics:
 
• System thinking and introduction to the laws of nature and their applicability in architecture and urban planning
• Sustainable Energy in the cities of the future: Bioenergy: biomass, biofuel; Solar Energy, Energy Supply & Management, smart grids
• Bio-architecture, regenerative architecture, and bio-urbanism: artificial intelligence in urban planning, sustainable materials and AI-based applications in sustainable material development, 3D printing for sustainable architecture, netzero carbon construction
• Bio-society, Bio-metric technology and circular economy in the cities of the Future
The program includes 25 hours/week:
- Lectures
- Projects
- Workshops
- Research laboratories and company visits
Note: Program content may be subject to change or cancellation based upon low enrollment
● Program Outcome
> Earn 3.5 ECTS
> Be part of an integrative and multidisciplinary approach to the topic and latest materials and technologies applied to the field of bio-architecture and bio-urbanism presented by French and international experts from universities, research institutions and companies
 
> Have fun while enjoying a multicultural and multidisciplinary experience and start creating your future
> Visit research laboratories and companies and be inspired by firsthand professionals
> Build an international professional network
> Enrich your profile with cultural visits and field trips
● Who can apply ?
We invite students from engineering, architectural, urbanistic, environmental and societal studies, or related fields to join us for an innovative, multidisciplinary, and exciting two-week summer program.
 
Required academic level:
•    Advanced Bachelor's degree students
•    Master's degree students
•    Ph.D. students
•    Young researchers and professionals who want to improve and find new opportunities in their work and research
🟢 APPLY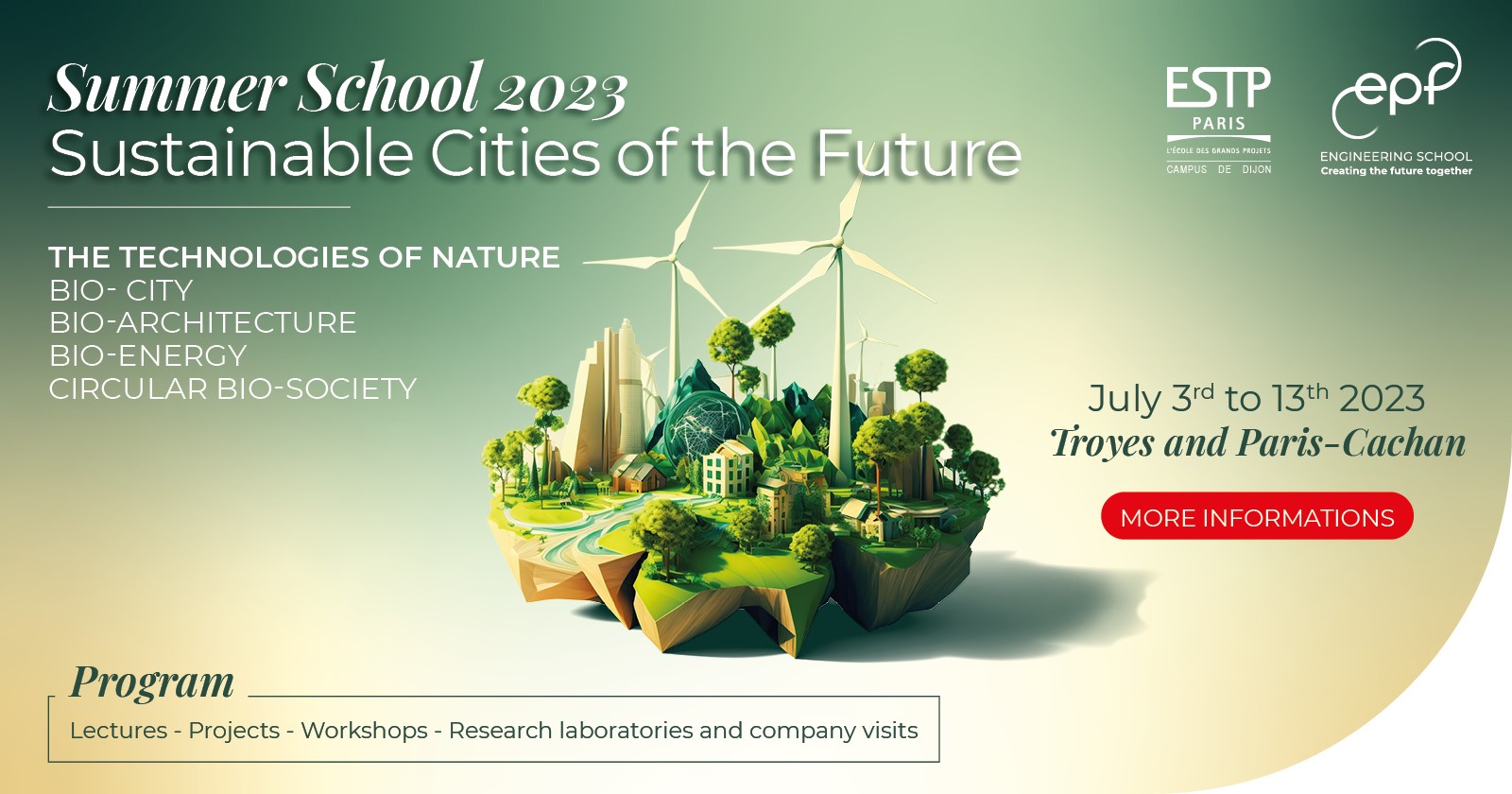 ● Cultural Program
Besides the academic lectures, complementary field trips, project site and cultural visits will allow students to discover the beauty of the Champagne region (Troyes), the capital city of Paris and its surroundings.

All students will discover the French culture in addition to cultural visits, which will contribute to a perfect understanding of the local social and professional environment.
● Practical Information & Accomodation
Our campuses:
ESTP Paris campus and our partner school EPF are located in Cachan (minutes away from the center of Paris by subway) on green lands and in Troyes (Champagne region) where teaching and research activities are organized. Students' life is energizing since students may benefit from sports facilities, cultural activities and restaurants close to the premises.
More detailed information may be found in the "Welcoming booklet" you will receive once admitted.
● Application & Fees
Application

Required documents:
•    Latest degree certificate/diploma or proof of enrollment in an academic program
•    Cover letter
•    Passport or National Identity Card for EU citizens
 
🚩 Application deadline: Wednesday, May, 31st 2023


The program fee of 1500 € for the two weeks covers:
•    Courses and documentation
•    Welcome and farewell events
•    Access to ESTP Paris and EPF facilities
•    Free internet access
•    Official program certificate
•    Cultural and social events
•    Transfer between Troyes and Paris-Cachan
Accommodation is not covered but you can receive information upon request.
Living expenses, individual insurances and visa fees are not included.
● Contact
🎬 Summer School 2019
You want to learn more about the Summer School Program, check the replay of the Live video chat below.
---