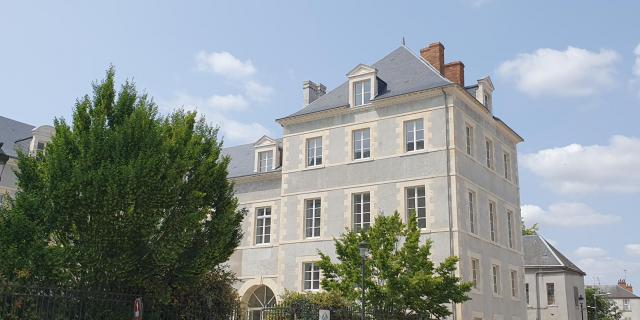 Orléans Campus
ESTP TO OPEN A NEW CAMPUS IN SEPTEMBER 2023!
ESTP's Orléans campus will offer a Grande Ecole programme (engineering curriculum) from the start of the 2023 / 2024 academic year. Our engineering cycle under student status leads to the same diploma, the ESTP Engineering Diploma (Master's equivalent).
 
TRAINING & RESEARCH THEMES

Seven research themes are developed within the ESTP Research Institute, with the Orléans campus aiming to develop a new theme.  
Thematic courses: Sustainable construction; Urban planning and mobility; Digital construction 
Option: Digital twins and AI 
Business expertise: Design office, Operational management, Research and development  
 
DIGITAL TWINS AND ARTIFICIAL INTELLIGENCE: Building Information Modeling (BIM), or digital mock-up, extends its usefulness to users and managers of the modelled building through a system for collecting and exchanging operating data (Building Operating System BOS). 
BIM is becoming an integral part of the entire construction value chain, particularly in the operating phase:
Virtual and augmented reality
Property management (augmented)
Asset modelling 
Technology 4.0, I.O.T
Digital twins 
Real-time simulation
Big Data, data collection, workflow, processing, management and pooling 
Predictive algorithms, Artificial Intelligence 
▶ Find out more about how to apply for the Grande Ecole engineering programme 
 
STUDENT LIFE

Orléans is a fast-growing, dynamic city on a human scale. This new campus is located 1 hour from Paris by train. The 5,000 m2 campus includes classrooms, collaborative and relaxation areas, as well as 6 research and teaching laboratories. In addition to these spaces, ESTP students will have access to a wide range of infrastructure built as part of the redevelopment of the Madeleine area (university restaurant, accommodation, e-learning centre, health centre, etc.) and to existing facilities within an 800 m radius: a multi-sports hall, an ice rink and facilities on the banks of the Loire.

STUDENT ACCOMMODATION



 Les Belles Années offers student residences throughout the region, particularly in Orléans. You can choose from furnished and equipped studio, one-bedroom or two-bedroom apartments, with everything you need to live and study properly 😊 For more information, visit the Belles Années website. Your partner code to use when creating your account: ESTP2023.
The CROUS offers various types of accommodation in Orléans, accessible via the student social file (DSE). For more information, visit the CROUS website.
 
THE ESTP COMMUNITY 

Thanks to the ESTP alumni groups present in all the regions, the ESTP Alumni Association organises and facilitates high points for exchange and sharing with students (afterworks, evenings, conferences, round tables, etc.). The association also offers ESTP students dedicated and personalised services, such as internship offers, scholarships, access to the alumni directory, a personal space, a mobile application, site visits, etc. 
Whether they are recent graduates or more experienced, ESTP alumni will be close to you, ESTP students. They are keen to share their profession and their experience, to help you discover their companies, and to advise and support you in your projects. Each year, the different graduating classes are also welcomed at the association's headquarters by the president and managers. 
As soon as you arrive at ESTP, you will be able to meet the members of the groups in your central region! Joining ESTP means becoming part of our community!
 
CONTACT

Nathalie FALP: Executive Assistant, Orléans campus
Mail: nfalp@estp-paris.eu
Tel : +33 (0)2.19.00.19.50
Antoine BONTE: Director of ESTP, Orléans campus
Mail: contact-campusorleans@estp-paris.eu
Address :
13 rue porte madeleine, 45000 Orléans.